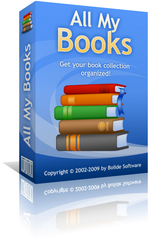 Ebook Organizer - Looks great. Works Wonders!
Hey, are you still using Calibre as your ebook collection organizer? Forget it! Calibre is great as ebook converter. Check All My Books software - it will take care of your ebook collection. Do not read further, it is too boring, just click on the Download button and you'll get the free 30-day version for testing. Then you'll decide - either to keep the program installed (of course YES!), or uninstall it to the hell (the right answer is NO :)
What you need is a good ebook organizer which can sort out all these problems masterly! Have a close look at All My Books! This ground-breaking software organizes all existing types of books - ebooks, audiobooks, traditional paper books, etc. It is sure to help you keep your library in a perfect order and keep track of your books.
Ebook Organizer saves loads your time
The ebook collection organizer picks up info from popular online book databases automatically, including plot synopsis, reviews, book cover, all the other info, while you only enter the title or scan the ISBN. It's very convenient! Choose the database you like (lots of them are available in several languages) and go ahead! Everything happens very fast - just in seconds, wasting no time and effort.
It's extremely easy to use
There is no need for expert knowledge of software when you use All My Books. It's intuitively simple to use the ebook file organizer - just a couple of clicks and the book card, bright and beautiful, with the nice cover is in front of you. The book card contains many fields (which are also automatically filled in, and can be edited). You can also choose the way your book card looks - several wonderful templates are at your service. The program offers you the Virtual book shelf mode which makes your book library look gorgeous!
Ebook Organizer guards your book collection
Efficient protection mechanisms are an essential part of the program. First of all, your database is password-protected. Secondly, automatic backups bring to nought the chance to lose your database as a result of system crash. The powerful built-in loan manager won't allow you to lose any book by chance - say, you often exchange books with friends and tend to forget about it. So, this ebook organizing software will make the situation a lot better.
Ebook Organizer saves your money as well
All My Books™ will also prevent you from buying books duplicates since, using the ebook file manager, you'll be able to export your database to your mobile device and every time you're in a book shop, you can look into your library and find out whether you already got it or not.
Advanced search options (by several criteria at a time), quick filters, great sorting and grouping options and many other things make it a lot simpler to work with huge book collections. No matter how large your book library is, it's not a hard nut to crack for All My Books.
One nonusual thing here... I know, you are looking for some software to manage your ebook files, but... May be you or your children will be interested in this outstanding webcam software? No? Webcams are funny! At least, I tried... Thank you for attention :)